July 2018 – Little Moreton Hall
"I urge you to grasp the opportunity to see this excellent production of a rarely performed classic play."

The Sentinel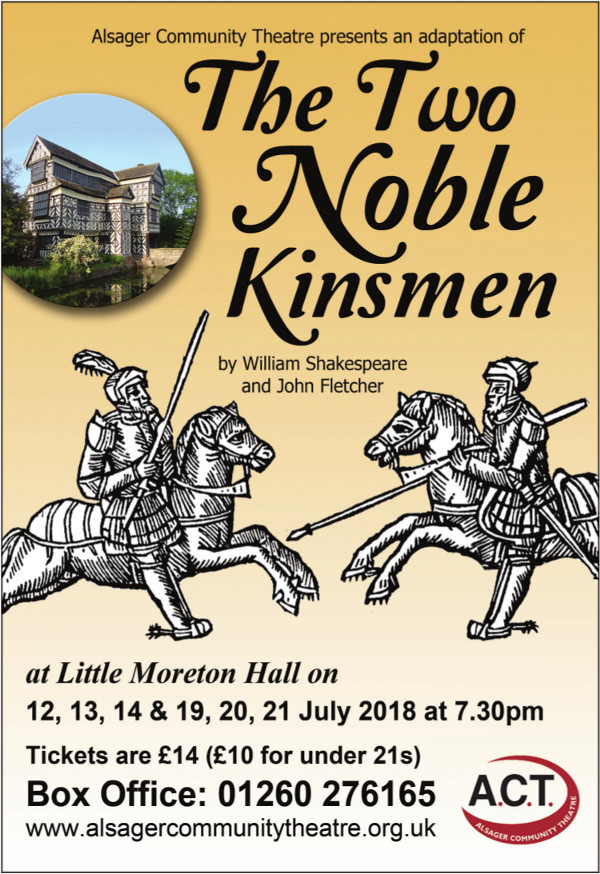 National Trust property Little Moreton Hall once again hosts a production by award-winning local amateur company, Alsager Community Theatre. In July, ACT stages an adaptation of The Two Noble Kinsmen, written jointly by William Shakespeare and John Fletcher, in the courtyard of this beautiful Elizabethan Hall (or in a marquee there if the weather is wet). This story of two young Theban knights in love with the same woman is a tale of war and courtly love previously told by Chaucer in The Canterbury Tales, and is based on an ancient Greek myth. There is conflict between the Greek cities of Athens and Thebes, and cousins Palamon and Arcite find themselves prisoners of war in Athens. Their prison cell overlooks the garden of Emilia, sister-in-law to the Duke of Athens, whereupon they both fall madly in love with her, changing from the best of friends into perfectenemies!
Director Diana Lane tells us "ACT's production of The Two Noble Kinsmen will be a treat for both actors and audience: a chance to experience one of Shakespeare's lesser known and rarely performed works, and one which contains a host of strong and memorable characters. Shakespeare and Fletcher introduce a new character to the story whose presence prompts some lovely poignant scenes; the jailer's daughter, driven to madness by her love for Palamon. There are also opportunities for humour; the speed with which Palamon and Arcite fall for Emilia, their polite consideration for each other as they prepare to fight to the death, and Emilia gazing at pictures of Palamon and Arcite, trying to decide which one she likes best. ACT is fortunate to have gathered a large and very experienced cast of familiar faces and new talent, and once again wardrobe mistress Barbara Malcolm will be producing stunning and colourful costumes to complement the beautiful setting of the Hall."
This play will be performed at Little Moreton Hall from the 12th – 14th and 19th – 21st July 2018.
Directed by Diana Lane
Cast
| | |
| --- | --- |
| Arcite | James Tomkinson |
| Palamon | Callum Hall |
| Theseus | Steven White |
| Hippolyta | Corrin Lipiec |
| Emilia | Sian Jones |
| Pirithous / Countryman | Mark Jeffries |
| Waiting Woman / Countrywoman | Autumn Evans |
| The Jailer | Deborah Key |
| The Jailer's daughter | Robyn Mather |
| The Jailer's sister / Countrywoman | Jacky Machin |
| Wooer / Countryman | Chris Pepper |
| Doctor / Schoolmaster | David Bryan |
Photography by Keith Plant