July 2012 – Little Moreton Hall
"It is hard to believe that Alsager Community Theatre has been offering top class drama every summer at Little Moreton Hall for more than 30 years."

The Chronicle
Press release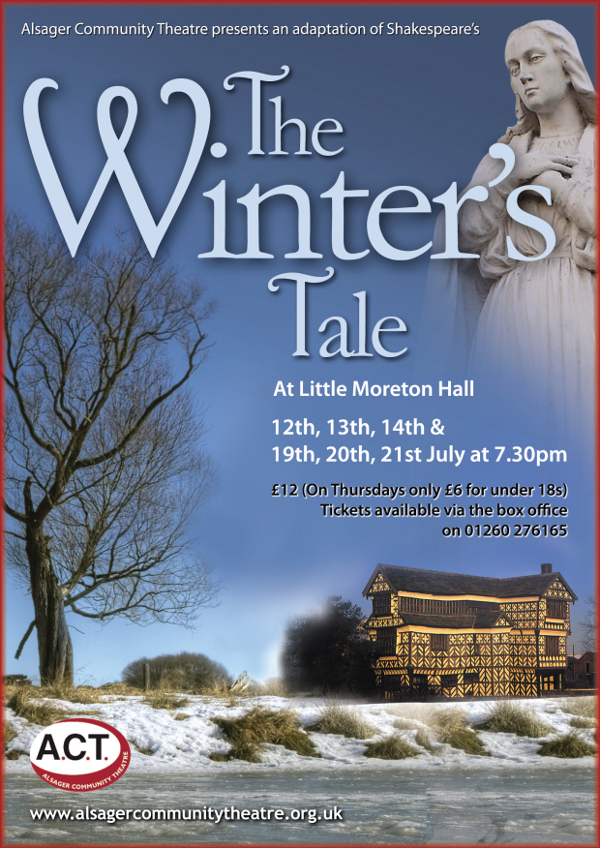 Every summer award-winning local company, Alsager Community Theatre, stages a production in one of the most intimate and delightful acting areas in Cheshire, the courtyard of the National Trust property, Little Moreton Hall. This year the group will be performing one of Shakespeare's best-loved comedies, The Winter's Tale.
Convinced of her infidelity, King Leontes of Sicilia imprisons his pregnant wife Hermione and decrees that her child be abandoned and left to die. Fifteen years later, Leontes is brought to a realisation of his own tyranny and injustice, and following a series of misunderstandings and surprise revelations the play leaves its dark themes behind and ends in a mood of joy and reconciliation, with dancing, singing and comedy. Director Brian Rawlins tells us "This is one of my favourite Shakespeare plays. It's unusual in that it combines a violent and tragic story in the first half with comic and charming pastoral scenes in the second: you get the best of both worlds!   Of course, the mixture of tragedy and comedy makes it a very demanding play for actors and we are fortunate to have attracted some of the best amateur actors and actresses in the Potteries and South Cheshire. I first worked with ACT when I appeared in their production of The Taming of the Shrew in 2005. I was impressed by their professional approach to theatre and I'm thrilled to be working with them again. One of the aspects of ACT's productions that attracted me was their use of original live music and I am making full use of the talents of Richard Tadman, the group's musical director, and his colleagues in this production."
This play will be performed at Little Moreton Hall from the 12th – 14th and 19th – 21st July 2012.
Directed by Brian Rawlins
Cast
Leontes
Jonathan Hutchins
Hermione
Jane Proctor
Mamillius
Sam Wright
Polixenes
Philip Jackson
Camillo
Keith Toulson
Antigonus
Jonathan Everitt
Cleomines
James Tomkinson
Antonio
Matthew O'Connor
Paulina
Diana Lane
Emilia/Shepherdess
Gill Plant
Gaoler/Mariner
Austin Stickley
Old shepherd
Howard Thorpe
Young shepherd
Richard Vernon
Time / shepherd / dancer
Tom Fox
Perdita
Sasha Tadman
Florizel / dancer
Oliver Ramsdale
Autolicus
David Bryan
Mopsa
Louise Hampson
Dorcas
Robyn Mather
Ladies in waiting / shepherdesses
Bernadette Dickenson
Pam Maskery
Karen Blaise
Berenice Harrison
Corrin Lipiec
Photography by Keith Plant