November 2015 – Alsager Civic centre
"The transformation of the hall into a theatrical venue was cleverly achieved and resulted in a very professional feel to a 'theatre in the round'."

The Sentinel
Press release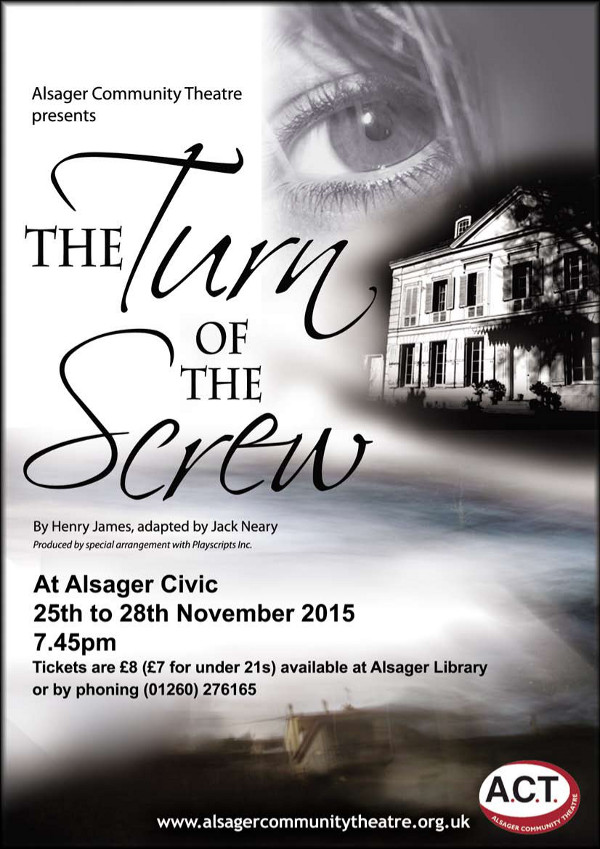 Long winter evenings are a perfect time for the telling of ghost stories, and Alsager Community Theatre has a real treat for their audiences in November when it stages a production of The Turn of the Screw by Jack Neary, adapted from the story written by Henry James and first published in 1898.
A young governess arrives at an isolated country house to take care of two children, Miles and Flora. Their parents are dead and their uncle takes no real interest in their upbringing. With only the housekeeper to support her, the governess finds herself in a terrifying life and death struggle for the souls of her young charges, and is haunted by the ghosts of the previous governess Miss Jessel and her lover Peter Quint. The Turn of the Screw is one of literature's most famous and disturbing works, both psychological thriller and ghost story.
Director Brian Ormrod tells us "The Turn of the Screw is a classic ghost story which is brought vividly to life in this adaptation. ACT is fortunate to have put together a talented cast, both familiar faces and new talent, including two exciting young actors playing the parts of Miles and Flora; Sam Swithenbank and Abi Cox. We are confident that our audiences will be completely gripped as their story unfolds."
This play will be performed at the Alsager Civic centre from the 25th – 28th November 2015.
Directed by Brian Ormrod
Cast
| | |
| --- | --- |
| The Governess | Rachel Mullock |
| Mrs Grose | Eileen Venables |
| Flora | Abi Cox |
| Miles | Sam Swithenbank |
| The Master | James Tomkinson |
| Peter Quint | Steve Stirland |
| Miss Jessel | Anna Mayers |
Photography by Keith Plant