March 2020 – Alsager Civic centre
"Every time I come to see you I think you can't get any better and yet you do."

Audience comment
Press release
This March, Alsager Community Theatre presents a brand new adaptation of the classic Frances Hodgson Burnett novel, The Secret Garden.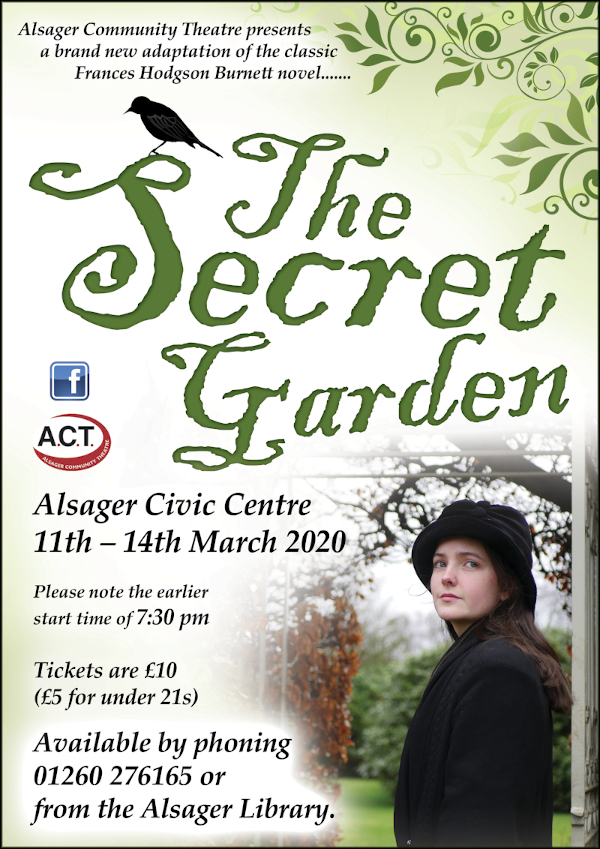 Living a life of neglect in a climate that one is ill suited for is anything but conducive to one's health or happiness. Add to that being orphaned and sent to live with a perennially grieving uncle and Mary Lennox could be described as among the most sour faced of children one is ever likely to meet. Her deliverance comes in the form of a discovery, that of the secret garden. Hidden away for a decade Mary has stumbled upon the key to her future and that of all those around her. The question remains will she find it in her cold heart to learn to care and nurture this place of serenity?
Adapter and director James Tomkinson says: "This is the first time I have written a stage play. In fact this play has been in development for three years. From the story to the technical wizardry no stone has been left unturned in our pursuit of a production filled with drama, emotion and a strong message of moral value."
The Secret Garden was performed at 7.30pm from Wednesday 11th to Saturday 14th March at the Alsager Civic centre.
Directed by James Tomkinson
Cast
| | |
| --- | --- |
| Mary Lennox | Abi Cox |
| Dickon | Edward Rolfe |
| Colin Craven | Max Lavin |
| Martha | Seren Irving |
| Mrs Medlock | Chris Lockett |
| Dr Craven | Brian Rolfe |
| Lord Archibald | Philip Jackson |
| Mother's ghost | Carly Thwaite |
| Ben Weatherstaff | Brian Ormrod |
| Child on ship #1 / Spirit #1 / Servant | Anna Mayers |
| Child on ship #2 / Spirit #2 / Hotel servant | Izzy Condliffe |
| Port official / Coachman | Colin Baskeyfield |
Photography by Geoff Reader and James Tomkinson