July 2013 – Little Moreton Hall
"The production achieves a fine balance between romantic farce and satirical celebration of the superficiality of the characters' actions and motives."

The Sentinel
Press release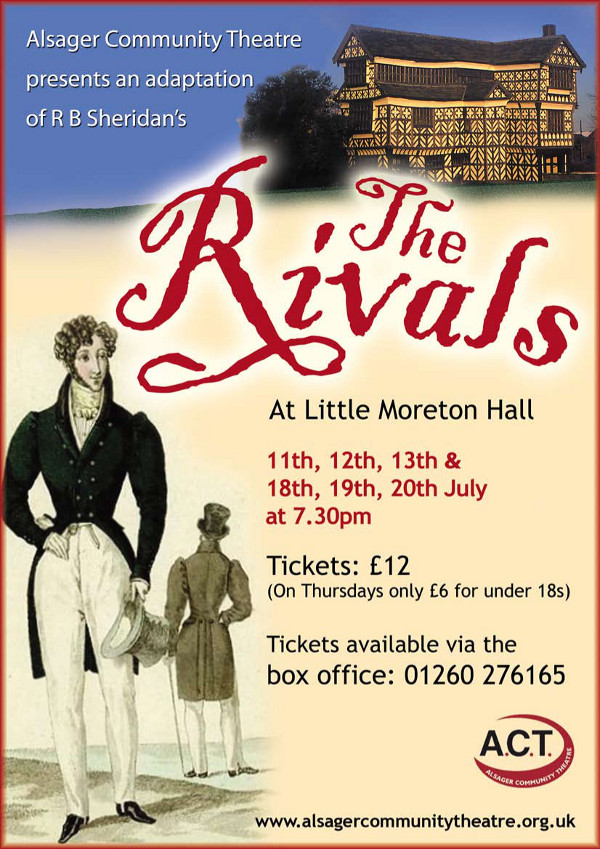 Regency dandies and the social whirl of eighteenth century Bath come to the National Trust's Little Moreton Hall this summer, as Alsager Community Theatre presents R B Sheridan's most famous comedy The Rivals in its beautiful courtyard setting.
Sheridan was born in Ireland but was brought up in Bath where, he claimed, he danced with all the beautiful society women, wrote sonnets in praise of some and satires and lampoons about the others. He also fought two duels to win the love of his life, Elizabeth Linley, a teenage singing star (yes, they even had them in the 18th century). Having survived both duels he turned to playwriting to earn his living, using his experience of the duels and the glittering social life of the city, where aristocrats and the nouveau-riche flocked to take the waters, to great comic effect in his plays.
The Rivals is a hugely enjoyable romp of a play in which young heiress, Lydia Languish, spends her days reading romantic novels and confiding in her dear friend Julia. Her determination to elope with a poor soldier and marry for love creates mayhem and confusion for her three rival suitors, her family and her friends, as the plot becomes ever more convoluted and the cast of characters ever more ridiculous!
The play features one of the most famous comic characters in English literature, Mrs Malaprop, whose attempts to impress backfire spectacularly. Her use of words in the wrong context gave the word malapropism to the English language.
Director Brian Rawlins tells us that he has long wanted to direct a play by Sheridan and having the opportunity to work with ACT in such a fabulous setting is very exciting; "Like many Irish playwrights, Sheridan was a master of the English language and he uses his skill with words, linked to his outrageous plots, to give some of the funniest scenes in English theatre. Added to the humour will be some wonderful music, beautiful costumes and of course, the fabulous background of the 15th century hall. We are lucky to have gathered a superb cast from all over North Staffordshire and South Cheshire, including Caroline Keen as Mrs Malaprop, who will be giving her special brand of comic timing to the role."
This play will be performed at Little Moreton Hall from the 11th – 13th and 18th – 20th July 2013.
Directed by Brian Rawlins
Cast
Sir Anthony Absolute
Alan Hodgkinson
Captain Jack Absolute
Tom Pear
Mr Faulkland
Simon Woodcock
Lydia Languish
Kirsty Shaw
Julia
Esther Greene
Mrs Malaprop
Caroline Keen
Bob Acres
Kristyan Mann
Sir Lucius O'Trigger
Steven Powell
Lucy
Rachel Mullock
Fag
James Lawton
Davinia
Gill Plant
Thomas (Coachman)
James Tomkinson
Maids
Pam Maskery, Karen Blaise,
Bernadette Dickenson, Corrin Lipiec
Photography by Keith Plant and James Tomkinson