November 2014 – Alsager Civic centre
"This was a strong and engrossing production that captivated the audience's attention throughout."

Official adjudication
Press release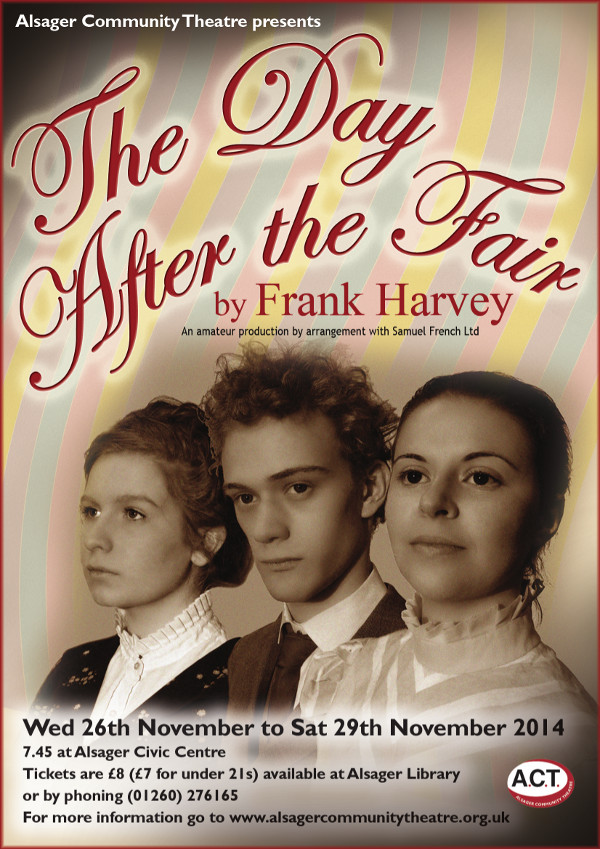 When two young people fall in love at a nineteenth century west country travelling fair, all seems set fair for a smooth courtship and a joyful wedding. But in Alsager Community Theatre's November production, events take an unexpected turn. Frank Harvey's The Day After the Fair is based on a short story by Thomas Hardy, one of our greatest Victorian novelists.
The play is set in the household of a wealthy Salisbury businessman, and takes place in the late 19th century. A servant of the household, Anna, meets Charles, an ambitious young lawyer from London, at the local fair. He is keen to maintain a correspondence, but she is barely able to read and write. Anna has been befriended by her mistress Edith, and persuades her to undertake a correspondence with Charles on her behalf. However, Edith's good intentions lead to far-reaching consequences for all three.
Director Philip Jackson tells us "The Day After the Fair is a fascinating exploration of family relationships, of deception and self-deception, and of the ways in which we fail to communicate with our nearest and dearest. At its centre is an intriguing encounter between two very different women. Anna has had no formal education, but she knows her own mind, and is assertive when demanding her rights. By contrast Edith, for all her refined upbringing and intelligence is something of a lost soul, uncertain of her place in the household and in the world. We are confident that our audiences will be completely gripped as their story unfolds."
This play will be performed at the Alsager Civic centre from the 26th – 29th November 2014.
Directed by Philip Jackson
"The sure-footed direction and skills of the actors made for an enjoyable evening."

Official adjudication
Cast
| | |
| --- | --- |
| Edith Harnham | Marie Black |
| Arthur Harnham | Chris Pepper |
| Letty Harnham | Diana Lane |
| Anna | Rachel Mullock |
| Charles Bradford | James Tomkinson |
| Sarah | Bethany Colclough |
Photography by Keith Plant