November 2012 – Alsager Civic centre
"Award winning group, ACT has a justifiably great reputation for creating quality drama and The 39 Steps in no way disappoints. Stunningly good – don't miss it!"


The Sentinel
Press release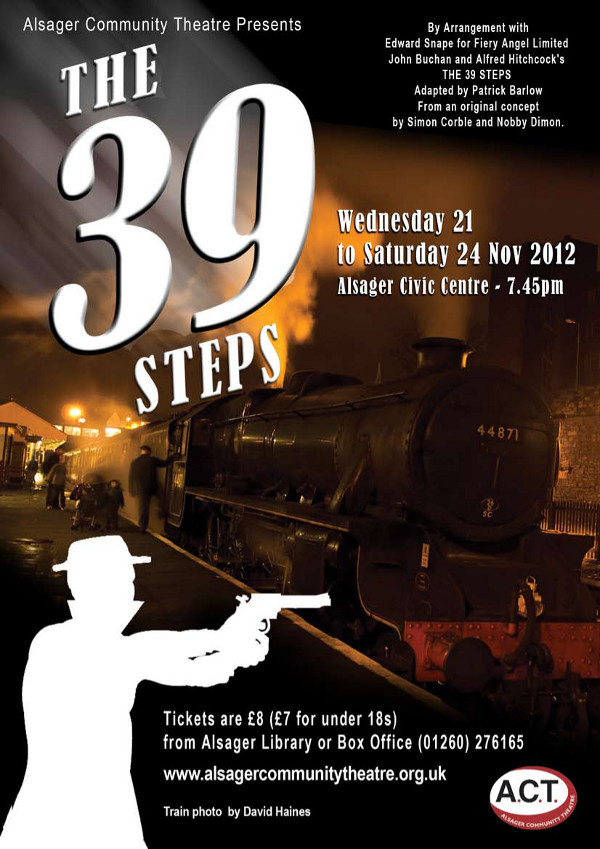 Alsager Community Theatre is looking to brighten up your autumn with its production of Patrick Barlow's hilarious Olivier award-winning adaptation of The 39 Steps. John Buchan's thrilling adventure story has come a long way, and this recent adaptation for the stage is closely based on Alfred Hitchcock's classic 1935 film.
Richard Hannay is forced to flee his London flat following the murder of beautiful, mysterious spy Annabella Schmidt. He finds himself caught up in a dastardly plot to betray secrets vital to national security, on the run from police and from a network of foreign spies.
A small band of actors play dozens of parts as the hero risks his life to uncover the secret of the 39 Steps. Nothing is cut in this hilarious and spectacular version of the story: legendary scenes include the chase on the Flying Scotsman, the escape on the Forth Bridge, the first theatrical bi-plane crash ever staged, and the death-defying (or nearly!) finale at the London Palladium!
Director Diana Lane tells us "Part affectionate homage, part spoof, Patrick Barlow's adaptation of The 39 Steps has delighted audiences in the West End, Broadway and in countless amateur productions since it first appeared in 2005. We thought it was about time that Alsager joined in the fun! And in a new development for ACT we are having a Saturday matinee, so that as many people as possible can come along to see us."
This play will be performed at the Alsager Civic centre from the 21st – 24th November 2012.
Directed by Diana Lane
Cast
| | |
| --- | --- |
| Richard Hannay | Philip Jackson |
| Annabella / Margaret / Pamela | Carol Acton |
| Compere / Professor Jordan / Mr McGarrigle | Brian Ormrod |
| Mr Memory / Mrs Jordan / Mrs McGarrigle | Celia Turner |
| Milkman / Crofter / Radio announcer | Hilary Warr |
| Sheriff / Mrs McQuarrie | Jacky Machin |
| Mrs Higgins / Mrs Dunwoody | Jean Ball |
| Pilot | Michael Turner |
Photography by Keith Plant