November 2019 – St Mary's church
Adapted by Stephen Briggs
"This was the best performance I have ever scene ACT put on"

Audience comment
Attention Terry Pratchett Fans!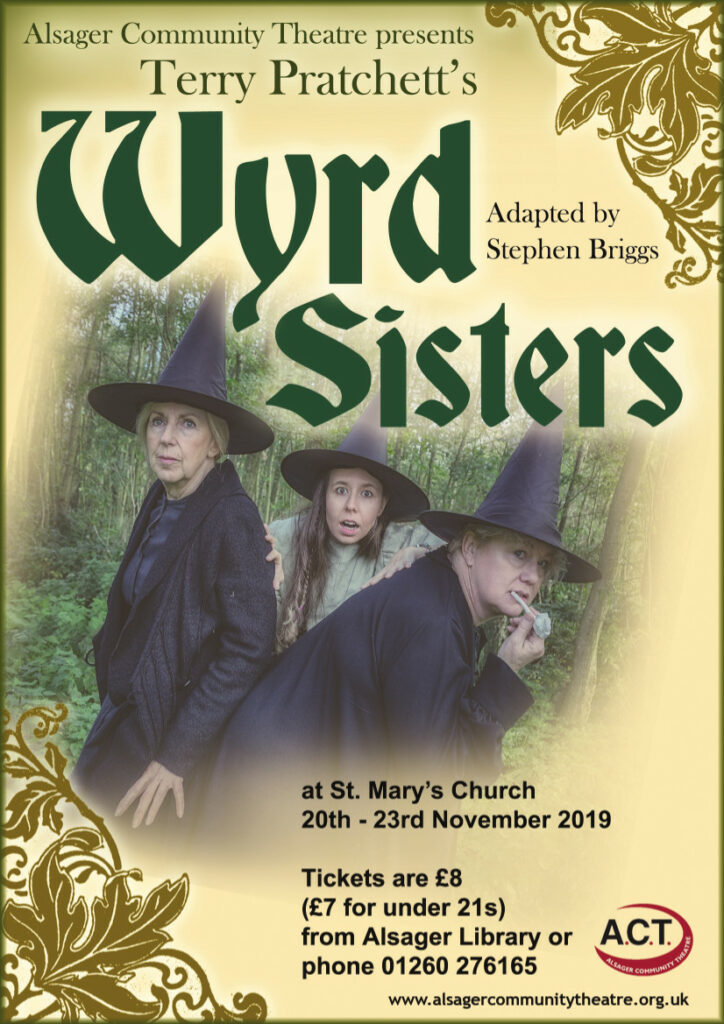 It looks as if someone has cast a spell over local award-winning amateur theatre group, Alsager Community Theatre, and we have allowed first time director, Steve White, to dive into the uncharted waters of Terry Pratchett's Discworld. Pratchett's novel Wyrd Sisters, adapted for the stage by Stephen Briggs, is being performed in November.
Wyrd Sisters is set in Lancre where three witches find themselves looking after a royal baby (all crown and no nappies) and have to find a way to prevent the child becoming a casualty in the new Duke's 'Urban Clearance'. Like many Pratchett stories this one takes established plots and ploys, and pokes fun at them (usually with a very big stick), while still telling a tale that can be moving, romantic and exciting as well as very funny.
Steve tells us "I've been reading the Discworld novels since last century and I've even performed in two Discworld plays as a nearly dead wizard and a troll. Perfect qualifications to direct any play. I'm also thrilled to be working at ACT with an enthusiastic cast of new and established faces. We are confident that audiences will enjoy an excellent and entertaining evening."
This play was performed at St Mary's church, Alsager from the 20th – 23rd November 2019.
Directed by Steven White
Cast
| | |
| --- | --- |
| Granny Weatherwax | Corrin Lipiec |
| Nanny Ogg | Deborah Key |
| Magrat Garlick | Carly Thwaite |
| Verence | Brian Ormrod |
| Duke Leonal Felmet | Chris Pepper |
| Lady Felmet | Pheobe Crewe |
| Fool and Soldier 2 | Owen Bailey-Burne |
| Vitoller and Bowman | Alan Mottram Playfoot |
| Mrs Vitoller, Robber 1 and Actor 1 | Sharron Wilkinson |
| Tomjon and Soldier 1 | Edward Rolfe |
| Hwel and Sergant | Richard Bateman |
| Chamberlin, Demon, Robber 2 and Bedlin | James Tomkinson |
| Guard 1, Guard 3 and Gumbridge | Steven White |
| Guard 2 and Guard 4 | Robyn Mather |
| Peasant and Actor 2 | Ruth Bateman |
| Actor 3 | Jean Ball |
Photography by Geoff Reader