July 2019 – Little Moreton Hall
"We were amazed at how well the novel had been adapted for the stage."

Audience comment
National Trust property Little Moreton Hall once again hosts a production by award-winning local amateur company, Alsager Community Theatre. In July, ACT stages a new adaptation of Jane Austen's much loved novel Pride and Prejudice in the courtyard of this beautiful Elizabethan Hall (or in a marquee if the weather is wet).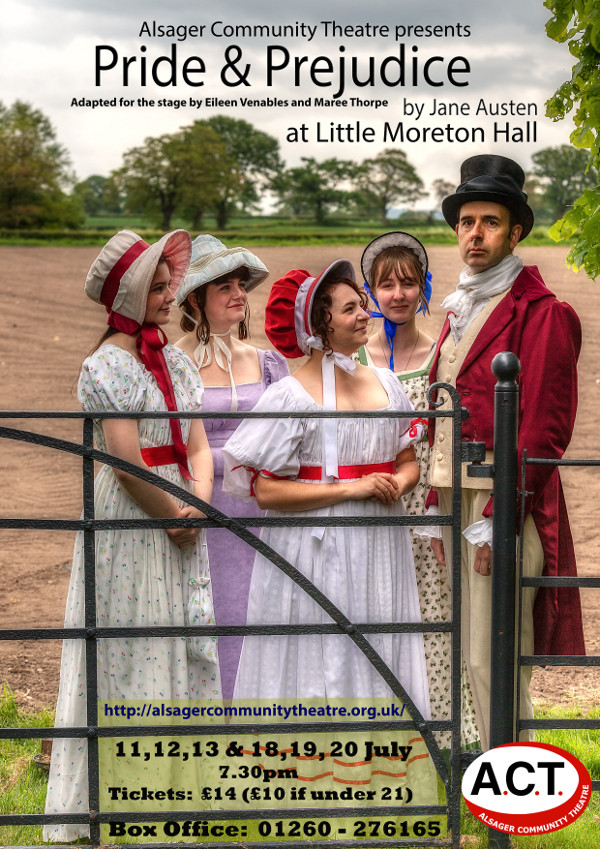 The romantic clash between the opinionated Elizabeth Bennet and her proud beau Mr Darcy is a splendid display of civilised sparring, and Jane Austen's radiant wit sparkles as her characters dance a delicate quadrille of flirtation and intrigue. Pride and Prejudice was immediately successful when it was first published in 1813, and has remained one of the most popular works in the English language, loved and admired by generations of readers, and adapted many times for stage, film and television. Jane Austen herself referred to Pride and Prejudice as "her own darling child" and its vivacious heroine, Elizabeth "as delightful a creature as ever appeared in print."
Director Eileen Venables has adapted the novel herself (assisted by Maree Thorpe) and tells us "Fortunately, many actors are keen to take part in Jane Austen's delightful and witty story of the Bennet sisters and their adventures in the marriage market, and ACT has gathered a large and experienced cast of familiar faces and new talent. As well as the reluctant lovers Elizabeth and Darcy, there are many strong, memorable and humorous characters to be brought to life in this superb comedy of Regency England manners. And once again wardrobe mistress Barbara Malcolm will be producing stunning and colourful costumes to complement the beautiful setting of the Hall."
This play was be performed at Little Moreton Hall from the 11th – 13th and 18th – 20th July 2019.
Directed by Eileen Venables
Cast
| | |
| --- | --- |
| Mr Bennet | Steven White |
| Mrs Bennet | Chris Lockett |
| Jane Bennet | Rosey Dight |
| Elizabeth Bennet | Louise Hampson |
| Mary Bennet | Alice O'Connor |
| Kitty Bennet | Seren Irving |
| Lydia Bennet | Abi Cox |
| Mr Gardiner | Howard Thorpe |
| Mrs Gardiner | Deborah Key |
| Mr Collins | Thomas Sharpe |
| Mr Darcy | Philip Jackson |
| Colonel Fitzwilliam | Ron Davies |
| Lady Catherine De Bourgh | Maree Thorpe |
| Mr Bingley | James Tomkinson |
| Caroline Bingley | Diana Lane |
| Mrs Hurst | Corrin Lipiec |
| Sir William Lucas | Philip Williams |
| Lady Lucas / Mrs Reynolds / Mrs Phillips | Danni Hickson |
| Charlotte Lucas | Nicola Jane Chirnside |
| Mr Wickham | James Gillespie |
| Mr Denny | Edward Rolfe |
| Mrs Hill | Gill Plant |
| Lambton maid | Jacky Machin |
Photography by Geoff Reader