July 2014 – Little Moreton Hall
"There can be no more pleasant place to watch a Shakespeare comedy on a bright summer's evening, than in the beautiful courtyard of Little Moreton Hall"

The Sentinel
Press release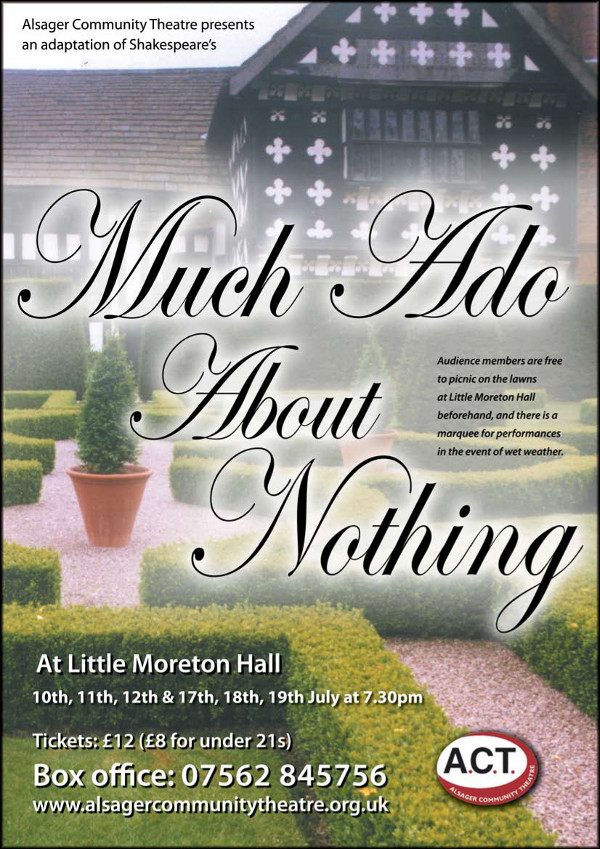 Every July award-winning local company, Alsager Community Theatre, stages a production in one of the most intimate and delightful acting areas in Cheshire, the courtyard of the National Trust property, Little Moreton Hall (or in a marquee there if the weather is wet). This year the group will be performing Much Ado About Nothing by William Shakespeare.
Peace breaks out and a number of gentlemen soldiers arrive at the home of Leonato, Governor of Messina, for a house party. These include Benedick and his new best friend, Claudio; as well as Don Pedro and his illegitimate brother Don John. Thus the stage is set for partying, match-making, courtship and mischief. The tone turns darker when the life of Leonato's daughter, Hero, is threatened by a dastardly plot, and broad humour is provided by the town watchmen led by constable Dogberry (famed for his glorious malapropisms) and his side-kick Verges. Much Ado not only features one of the most famous pairs of sparring would-be lovers in English literature: Beatrice and Benedick, but a host of strong and memorable characters.
Director Diana Lane tells us "Much Ado is one of Shakespeare's best-loved and most accomplished comedies, and ACT is fortunate to have attracted a very strong cast for this production, including two very talented and experienced actors well-known throughout North Staffordshire playing the fabulous roles of Beatrice and Benedick: Jane Procter and David Bryan. We are also very excited to have original music specially created for this production by local composer Richard Tadman, whose group of musicians will be performing live before and during performances."
This play will be performed at Little Moreton Hall from the 10th – 12th and 17th – 19th July 2014.
Directed by Diana Lane
Cast
| | |
| --- | --- |
| Leonato | David Astill |
| Benedick | David Bryan |
| Beatrice | Jane Procter |
| Don Pedro | Mark Jeffries |
| Claudio | Jacob Jeffries |
| Hero | Rachel Mullock |
| Don John/Sexton | Richard Bateman |
| Borachio | James Tomkinson |
| Dogberry | Michael Turner |
| Verges/Antonia | Jacky Machin |
| Ursula / Watchman | Robyn Mather |
| Margaret / Messenger / Watchman | Bethany Colclough |
Photography by Keith Plant