March 2018 – Alsager Civic centre
"Talk about the wow factor"

Audience comment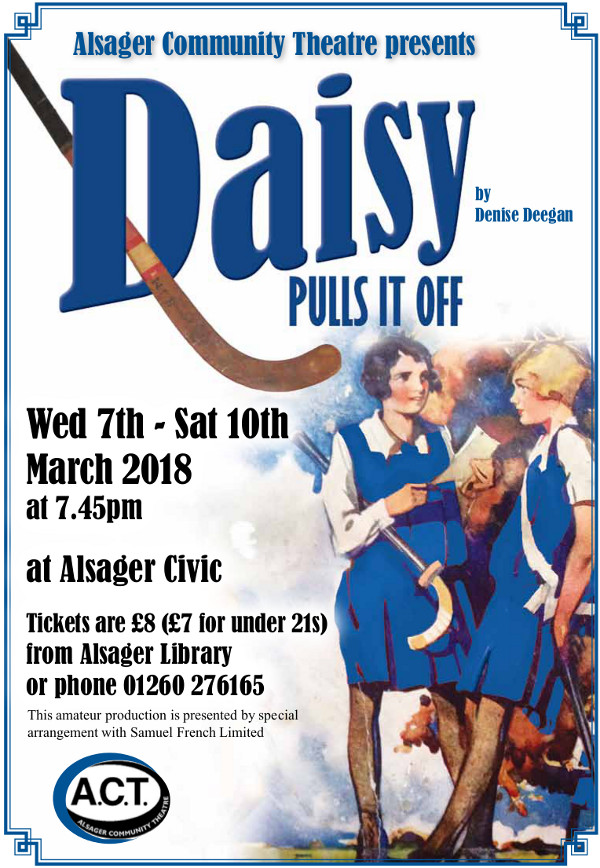 Press release
In March, ACT will be performing the hilarious and endearing comedy Daisy Pulls It Off by Denise Deegan. The play is set in 1927 and is a spoof of the boarding school novels of Angela Brazil and Enid Blyton. Daisy Meredith wins a scholarship to the frightfully posh Grangewood School for Young Ladies and bids a fond farewell to her decent but lowly family. She is welcomed by fair-minded and sporting duo Trixie and Belinda, but despised and plotted against by snobbish Sybil and her smarmy sidekick Monica. Naturally, it's only a matter of time before Daisy excels at hockey, cracks a secret code, solves the mystery of some hidden treasure, and saves both a fellow-pupil's life and the school.
Director Maree Thorpe tells us "The plot is stuffed with every device found in the originals, and is delightfully incredible, a perfectly ripping yarn in fact! We have a large and talented cast of "gels" and teachers and look forward to providing audiences with an extremely entertaining evening."
This play will be performed at the Alsager Civic centre from the 7th – 10th March 2018.
Directed by Maree Thorpe
A special thank you must go to the Crewe Lyceum theatre for their technical support.
"Best effects lighting the group has ever had"

Audience comment
Cast
| | |
| --- | --- |
| Daisy Meredith | Mollie Brown |
| Sybil Burlington | Robyn Mather |
| Mother / Miss Calder | Hilary Yates |
| Belinda Mathieson | Abi Cox |
| Clare Beaumont | Naomi Sharman |
| Alice Fitzpatrick | Emma-Jane Bradbury |
| Trixie Martin | Marie Black |
| Monica Smithers | Molly Freer |
| Dora Johnston | Anna Withington |
| Miss Gibson | Jennifer Swansborough |
| Miss Granville | Deborah Key |
| Mademoiselle | Gill Plant |
| Mr Scoblowski | Steven White |
| Mr Thompson | Brian Ormrod |
"Incredible, brilliant and fantastic"

Audience comment
Photography by James Tomkinson