A Midsummer Night's Dream – July 2021 (covid permitting)
---
Please note a change from our usual venue.
Crewe Hall – 15th at 7.30pm
(16th – Sold out)
Rehearsal requirements have necessitated the cancellation of the advertised performance on Monday 5th July. We apologies unreservedly for this.
All tickets must be reserved in advance. We cannot sell tickets 'on the door' due to coronavirus. (We can take cash payments for reserved tickets 'on the door')
Doors open at 7.00pm
Box Office – 07562 845756
---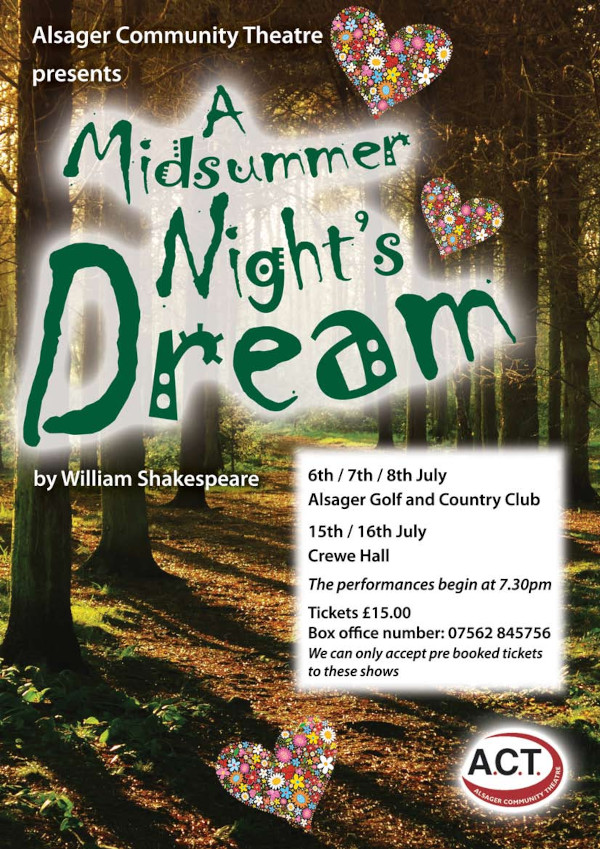 It's 1969, the 'summer of love' and the aroma of flower power fills the air! The influence of the magic and beauty of love's power, upsets the status quo. Those who once controlled the world find themselves lost to the power of love.
In the heat of the city, a parent is against the growing love affair of a daughter. In order to escape the rules and conventions of the world as it was, the lovers run into the forest. Once there, they discover they are not alone. With the magic of nature disturbed by the upset of 'who loves who', a night in the forest turns into a dream.
In this favourite of Shakespeare comedies, conventions are upended and love conquers all. This celebration shared with some of Shakespeare's funniest and endearing characters. Join the dream of love that develops in this timeless classic with an open air telling of a romantic tale. Bring a blanket and enjoy an evening with the wicked Sprites, a donkey and the lovers.
All performances will begin at 7.30pm and take place outside rain or shine. To keep the audience safe we will be socially distancing the groups you book in. Due to the need to keep the auditorium ventilated there will not be a marquee this year so please come prepared for the Great British weather.
Ticket prices are as follows.
| | |
| --- | --- |
| Adult | £15.00 |
| Groups of 4+ adults each (same performance) | £12.50 |
| Under 21s | £10.00 |
Unlike our previous shows the seating areas will be numbered and tailored to the size of your group. This is to ensure that the audience can remain socially distanced.
This is a bring your own chairs event.
The box office is now open on 07562 845756.
Also catch all our latest updates on our social media pages @alsagertheatre on Facebook, Instagram and Twitter.
Crewe Hall – Weston Road, Crewe, CW1 6UZ
Cast
| | |
| --- | --- |
| Hermia | Sian Jones |
| Helena | Zoë Bailey |
| Hippolyta | Andrea Keady |
| Titania | Shelley Rivers |
| Fairy | Robyn Mather |
| Theseus | George Williams |
| Demetrius / Nyx | Dylan Bugg |
| Lysanda | Ceri Bugg |
| Oberon | Steve White |
| Egea/Philostrate + Quince/Prologue | Carly Thwaite |
| Puck | Chris Lockett |
| Bottom/Pyramus | Deborah Key |
| Flute/Thisbe | Corrin Lipiec |
| Starveling/Moonshine | Naomi Sharman |
| Snout/Wall | Sharon Wilkinson |
| Snug/Lion | Gill Plant |
| Cobweb | Stanley Cruxton |
| Mustardseed | Owain Bugg |
| Peaseblossom | Rose Taylor |
| Huon | Sebastian Morris |
| Indi | Evan Bugg |
Photography by Geoff Reader