Terry Pratchett's Wyrd Sisters – November 2019
St Mary's Church, Alsager 20th – 23rd November
Please note the earlier start time of 7:30pm
Attention Terry Pratchett Fans!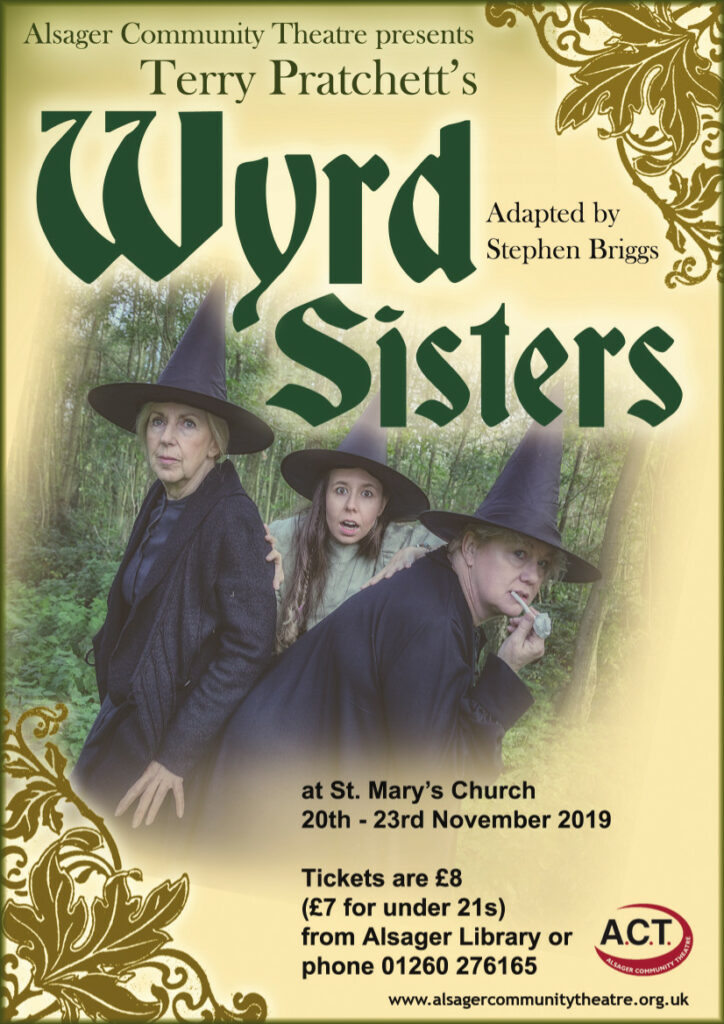 It looks as if someone has cast a spell over local award-winning amateur theatre group, Alsager Community Theatre, and we have allowed first time director, Steve White, to dive into the uncharted waters of Terry Pratchett's Discworld. Pratchett's novel Wyrd Sisters, adapted for the stage by Stephen Briggs, is being performed in November.
Wyrd Sisters is set in Lancre where three witches find themselves looking after a royal baby (all crown and no nappies) and have to find a way to prevent the child becoming a casualty in the new Duke's 'Urban Clearance'. Like many Pratchett stories this one takes established plots and ploys, and pokes fun at them (usually with a very big stick), while still telling a tale that can be moving, romantic and exciting as well as very funny.
Steve tells us "I've been reading the Discworld novels since last century and I've even performed in two Discworld plays as a nearly dead wizard and a troll. Perfect qualifications to direct any play. I'm also thrilled to be working at ACT with an enthusiastic cast of new and established faces. We are confident that audiences will enjoy an excellent and entertaining evening."
Wyrd Sisters is performed at 7.30pm from Wednesday 20th to Saturday 23rd November at St Mary's Church, Crewe Road, Alsager, ST7 2EW.
Tickets are £8 (£7 for under 21s). They are available from 1 st November by phoning 01260 276165 or from the Alsager Library.
At this time it is not possible to obtain tickets through this website or by e-mail.