July 2016 – Little Moreton Hall
"It was evident that an enormous amount of work had gone into every aspect of the evening… the costumes, the music, the lines that had to be learnt and the humorous delivery were perfect."

Audience comment
Press release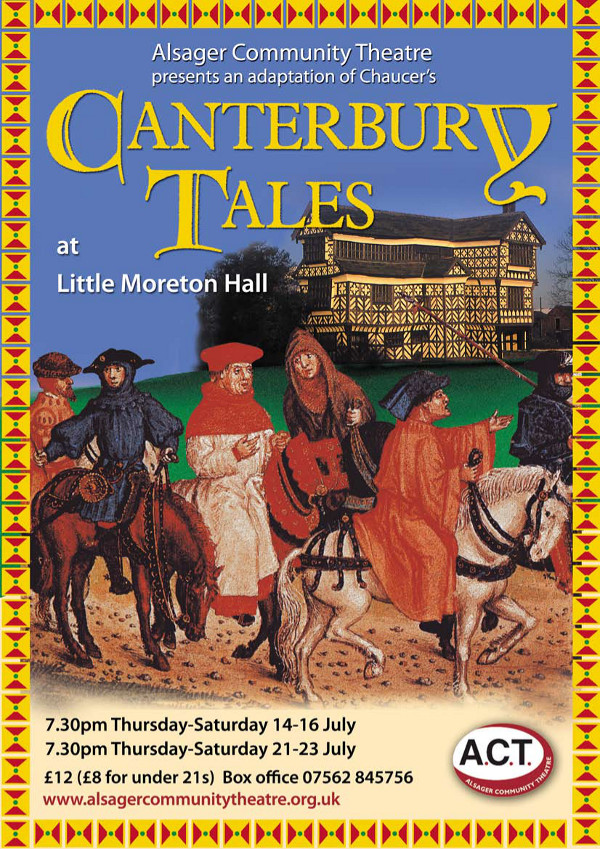 The courtyard of Little Moreton Hall will be transformed into the Tabard Inn, where a group of pilgrims gather before setting off on their journey to the shrine of Thomas à Becket at Canterbury. The pilgrims come from every part of the country and from every class of 14th century society. They quarrel, insult, attack and defend each other while Harry Bailey, the host of the Tabard, attempts to keep the peace and to keep the stories coming. ACT are performing four of the Tales; the Knight's, the Miller's, the Pardoner's and the Wife of Bath's, and ACT is fortunate to have attracted a large and talented cast of local actors, who will all play multiple roles as pilgrims both telling and acting out the tales. The medieval costumes will look wonderful at Little Moreton Hall and there will be plenty of colour and action in a fast-moving, energetic production. Humour, sometimes bawdy, will have first priority but there are also opportunities for romance, melodrama, song and dance.
Music in the medieval style has been written specially for the production by local composer Richard Tadman.
This play will be performed at Little Moreton Hall from the 14th – 16th and 21st – 23rd July 2016.
Directed by Maree Thorpe
Cast
| | |
| --- | --- |
| Geoffrey Chaucer | Philip Jackson |
| Harry Bailie | Brian Rawlins |
| The Hostess | Jacky Machin |
| The Knight / The Reeve | Howard Thorpe |
| The Miller | Ron Davies |
| The Pardoner | Philip Williams |
| The Wife of Bath | Robyn Mather |
| The Squire | James Tomkinson |
| The Prioress | Diana Lane |
| The Nun | Corrin Lipiec |
| The Reeve's Wife | Rachel Mullock |
| The Cook | Gill Plant |
| The Merchant | Richard Bateman |
| The Lady | Bethany Colclough |
| The Haberdasher | Pam Maskery |
| The Dyer | Jean Ball |
| Serving Wenches | Pauline Malpas & Pam Hargreaves |
Photography by Keith Plant