March 2014 – Alsager Civic centre
"It takes a certain degree of courage for any drama society to decide to stage what has been described by some commentators as 'the greatest play of its time', so Alsager Community Theatre is to be congratulated for choosing as its first production of 2014,  Tom Stoppard's  award winning play Arcadia"

The Sentinel
Press release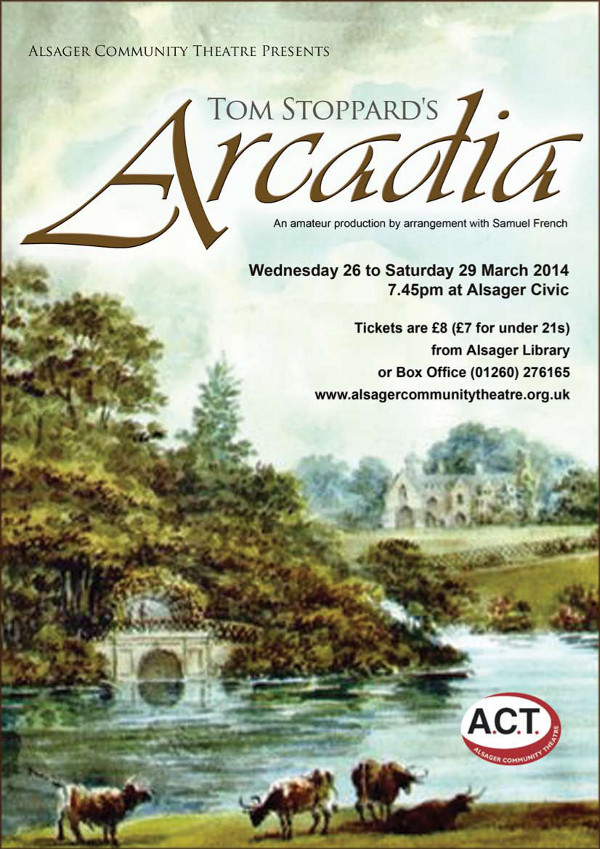 Tom Stoppard's Arcadia is widely regarded as the masterpiece of one of our most talented contemporary playwrights, the perfect marriage of ideas and comedy, and it is being produced by Alsager Community Theatre in March.
Two present day rival historians (Hannah and Bernard) are researching events which took place in 1809 at Lord Croom's country house in Derbyshire: events involving Byron, poetry, adultery, a duel, a hermit, landscape gardening and mathematics. Thomasina and Septimus are student and tutor living through these events in 1809.The action alternates between the two time zones as the conjectures of the present are weighed against the actuality of the past in complex and dazzling style. Arcadia was first performed at the National Theatre in 1993, where it won the Olivier and Evening Standard awards for Best Play.
Director Maree Thorpe tells us "Arcadia is a fascinating exploration of the past and the terrible blunders we make in our attempts to interpret it. It looks at the development of ideas and mathematical discoveries, at changing tastes, creation and destruction, chaos and order, and the poignant fragility of life. It is crammed with Stoppard's clever and witty dialogue, and is extremely funny. We are fortunate to have assembled a cast of talented newcomers and familiar faces for our production, and we are confident that our audiences won't be disappointed."
This play will be performed at the Alsager Civic centre from the 26th – 29th March 2014.
Directed by Maree Thorpe
Cast
| | |
| --- | --- |
| Thomasina Coverly | Esther Greene |
| Septimus Hodge | Philip Jackson |
| Jellaby | Richard Bateman |
| Ezra Chater | Howard Thorpe |
| Richard Noakes | David Astill |
| Lady Croom | Celia Turner |
| Captain Brice, RN | Michael Turner |
| Hannah Jarvis | Sheila Hallam |
| Chloe Coverly | Rachel Mullock |
| Bernard Nightingale | Chris Pepper |
| Valentine Coverly | Jacob Jeffries |
| Gus / Augustus Coverly | James Tomkinson |
Photography by Keith Plant