November 2018 – St Mary's church, Alsager
"The company received hearty and deserved applause"

The Sentinel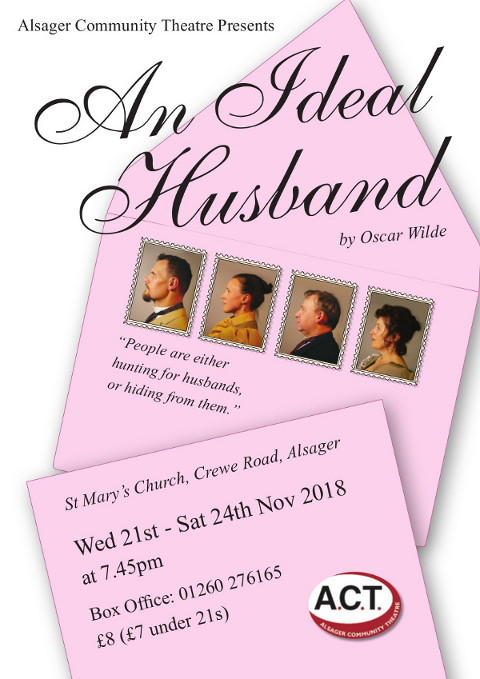 Press release
This November, Alsager Community Theatre will be brightening up some of those long autumn evenings with its production of the classic Oscar Wilde comedy-drama An Ideal Husband. We may have an idea of who our perfect partner should be, yet such an ideal can only exist as long as real life has absolutely no say in the matter. Oscar Wilde's An Ideal Husband focuses on a married couple who appear to be perfect in every respect. Sir Robert Chiltern is an ideal husband. However when the beguiling blackmailer Mrs Cheveley seeks to bend him to her political agenda his moral standing, marriage and ministerial career are thrown to the wolves in this battle of Wildean wit.
Director James Tomkinson says: "I directed a production of The Importance of Being Earnest a couple of years ago, and loved the experience so much that I was very keen to do another play by Oscar Wilde. Audiences loved it too! This one is rather less frivolous, but just as entertaining, as it mocks and satirises the stifling atmosphere of polite English society in the 1890s. We are fortunate to have gathered a talented cast of local actors, and are confident that our audiences will have a wonderful evening."
This play was performed at St Mary's church, Alsager from the 21st – 24th November 2018.
Directed by James Tomkinson
Cast
| | |
| --- | --- |
| Sir Robert Chiltern | Steven White |
| Lady Chiltern | Robyn Mather |
| Mrs Cheveley | Chris Lockett |
| Lord Goring | Owen Bailey-Burne |
| Mabel Chiltern | Bethany Lewis |
| Lord Caversham | Chris Pepper |
| Lady Markby | Emma-Jane Bradbury |
| Lady Basildon | Deborah Key |
| Mrs Marchmont | Corrin Lipiec |
| Nanjac / Phipps | James Gillespie |
| Mason | James Tomkinson |
Photography by Keith Plant